Day 1: Thursday June 23rd 2005:
I planned this trip to try to catch three new species of salmonids; Arctic Grayling, Snake River Fine Spotted Cutthroat, and Lake Trout. I was also hoping to catch some repeat species, including brown trout, Yellowstone cutthroat, and brook trout. My dad and I left home bright and early bound Yellowstone National Park, and only making a brief stop in Missoula to refuel and to grab some lunch.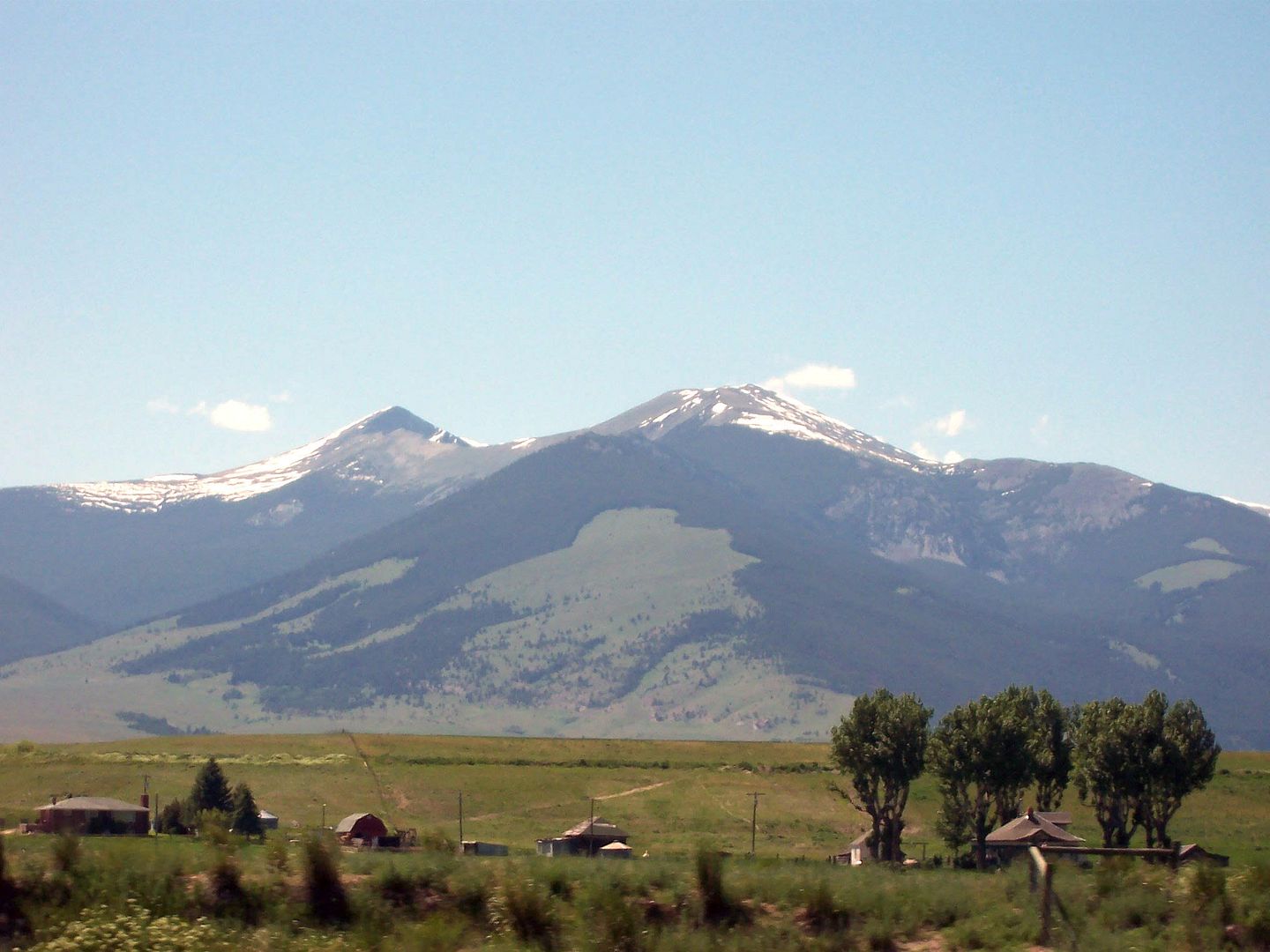 The Deerlodge area of Montana.
The weather was great all through Washington, Idaho and Montana, until we turned off at the Madison River. After 11 hours of driving, there was an ugly looking thunder storm hanging out over the Yellowstone area, completely putting the possibility of getting an hour of fishing in on the Madison River out of the question. We pulled into the Norris campground at 6:00PM, in between rain showers and tried and failed to get our tent set up before the next front of rain came through. By the time the tent was set up, we were soaked and it was an easy decision to just call it a night.
Day 2: Friday June 24th 2005:
We got up early the next morning after a typical cold Yellowstone night, just with the added bonus of some thunder storms. The goal for the day was to catch some grayling, and to do that we decided to hike into one of the grayling lakes in the upper Gibbon River watershed. The trail to the lake traveled mostly through a patch of forest that had been charred in the fires of 1988, and provided little scenic value until we reached the lake.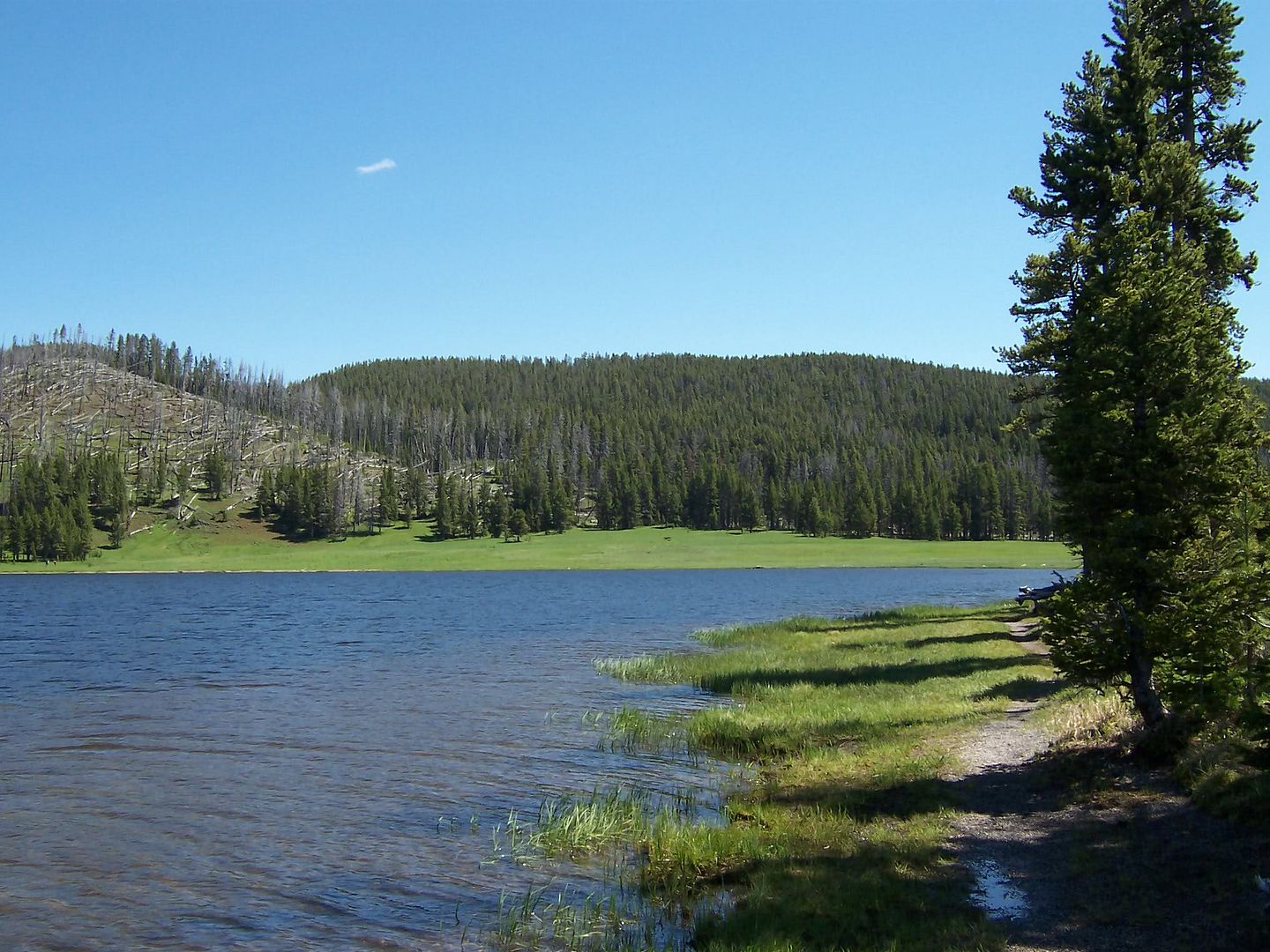 The grayling lake.
When we got to the lake, there were already several other fisherman there but it appeared that the osprey were having much more luck than what they were. We hiked a short distance along the south shore and found a nice point where some callibaetis mayflies were coming off. I choose to use a double fly setup with a callibaetis quill nymph
trailed by a tellico nymph
and caught rainbow trout on the first cast. However I had come here for grayling and was a little worried that rainbow trout population would outweigh that of the grayling. This was definitely not the case, and the first rainbow trout would also be the only one that we would see. Almost every cast after the rainbow was rewarded with a grayling, which averaged about 8 - 10" with a few larger and smaller ones thrown in, and after we had caught our share we headed back to camp. Although the grayling were excedingly beautiful, the best part of their fight was the hit after a couple hours of fishing we decided it was time to head back out.
An arctic grayling
After hiking out of the lake we went back to camp and got some lunch, than I headed off on my own to try out the streams flowing through the meadow at Norris. I found plenty of small brook trout here, and lost a couple of decent brown trout and returned to camp at about dinner time after a successful day of trout hunting.
Day 3: Saturday June 25th 2005:
The plan for the day was to hit Yellowstone Lake for some cutthroat and possibly Lake Trout, which were illegally introduced to the lake in the 1980's and are said to congregate in the shallows around the West Thumb part of the lake during June. However driving past some prime stretches on the Firehole River without fishing was just a bit more than I could handle, so we stopped for about an hour during which we only picked up one rainbow trout.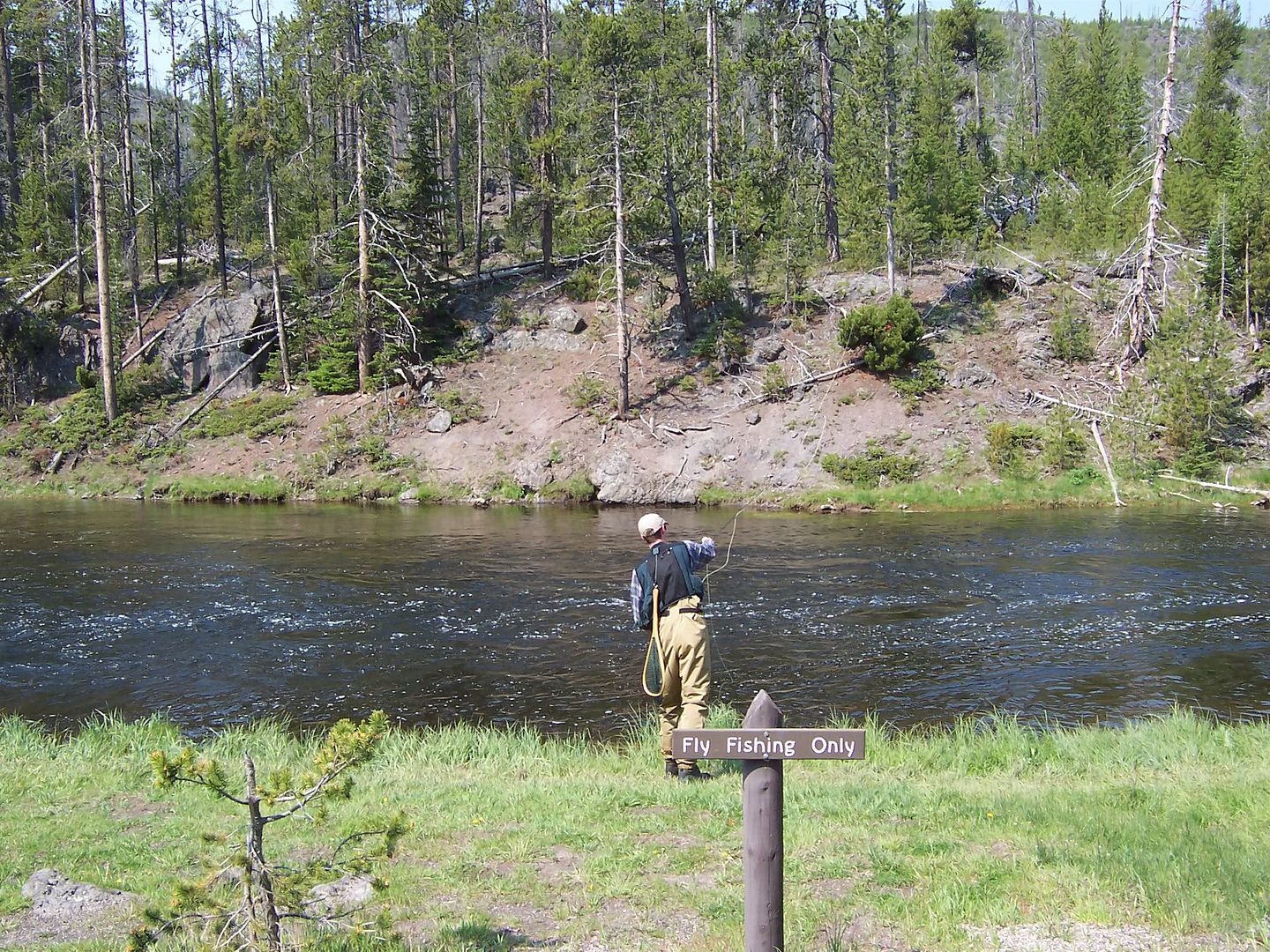 The sign says it all in this one...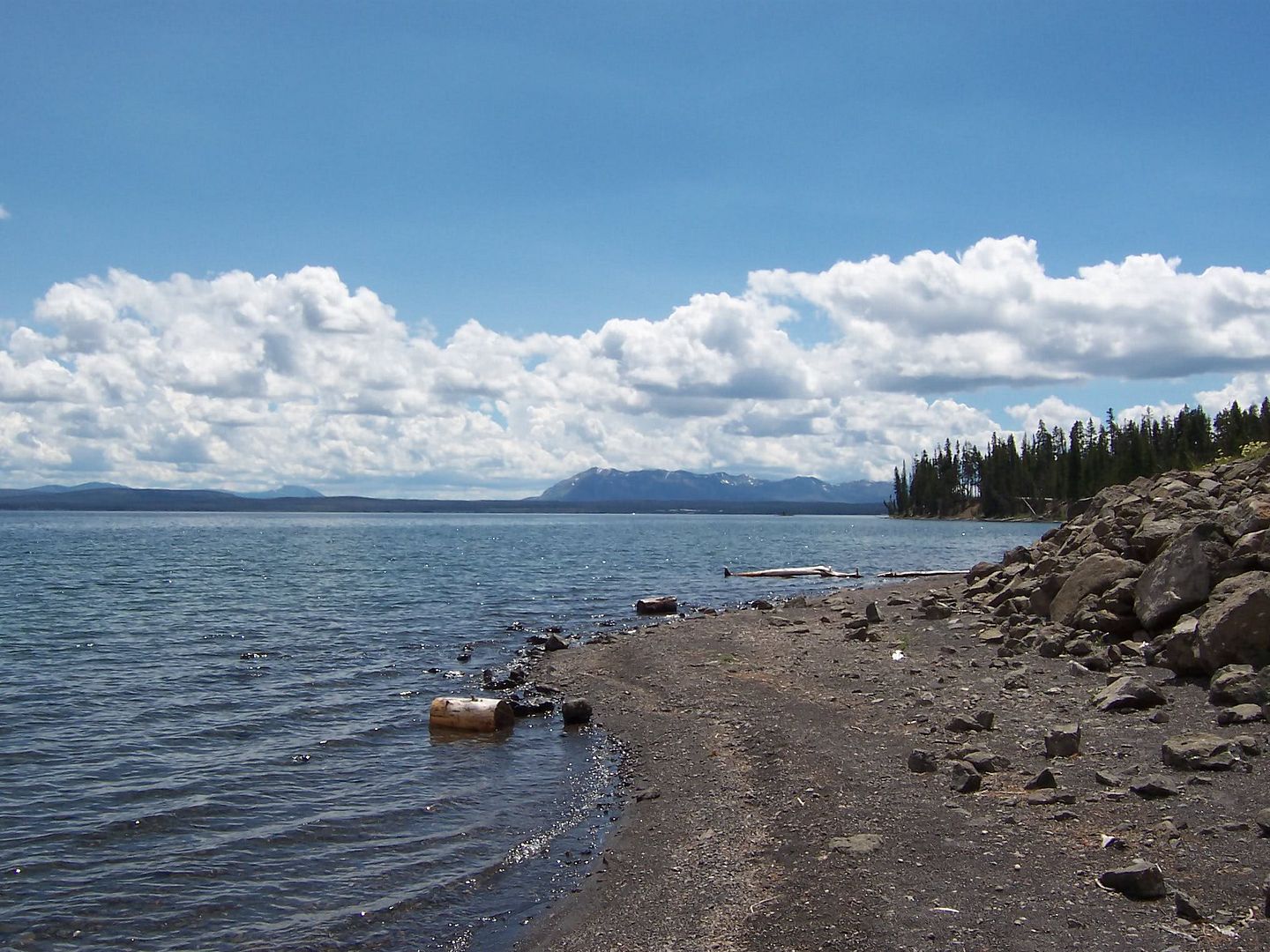 Yellowstone Lake
After the Firehole River we continued on to the lake, which provided me with a fishless and strikeless couple of hours, meaning that I would have to try again for laker trout some other time. On the way back to Norris, we stopped at the Gibbon River below the falls where all I got was a few small rainbow trout, before returning to camp and calling it a day.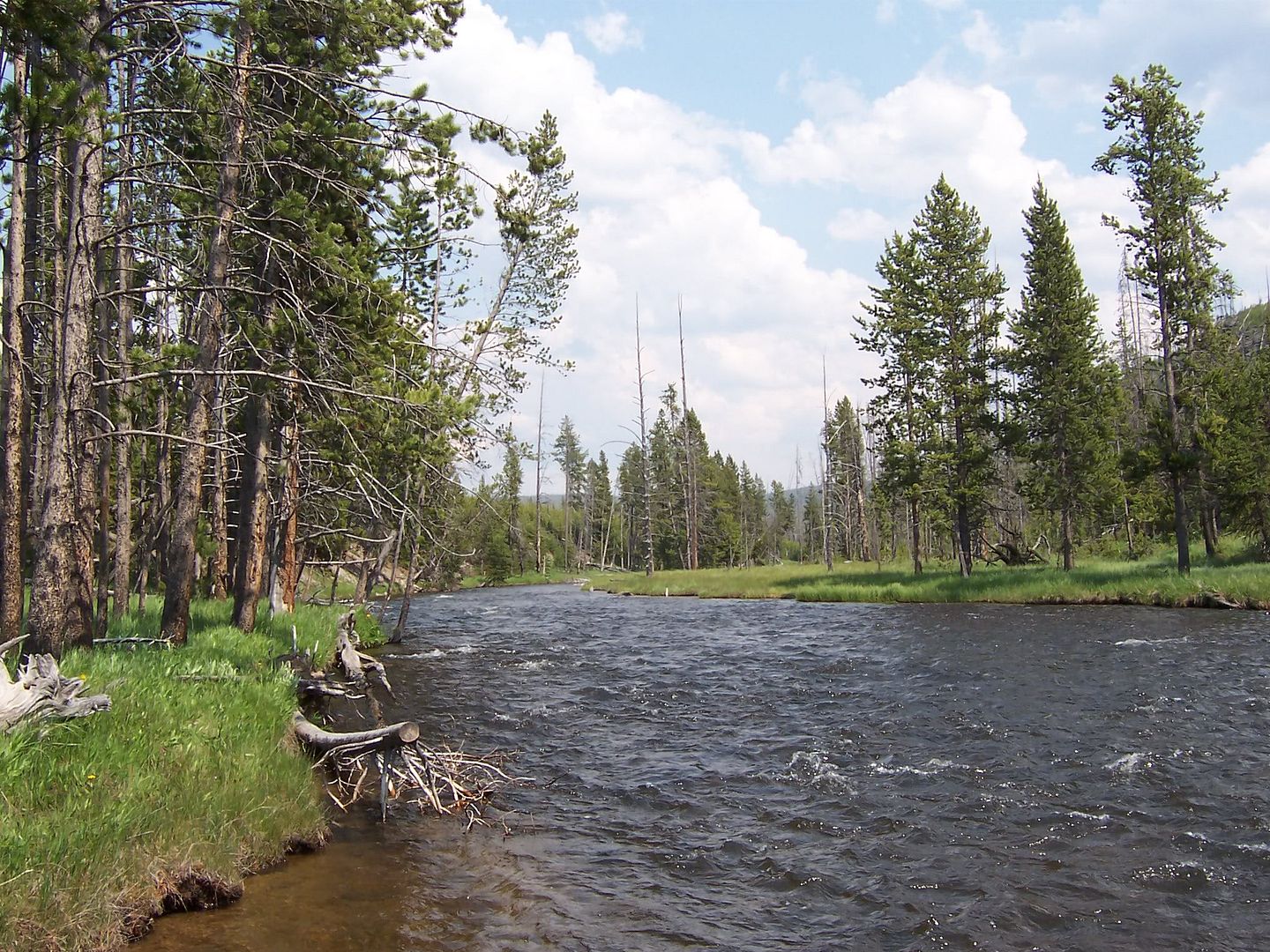 The Gibbon River
Day 4: Sunday June 26th 2005
: When we got
up
in the morning, we decided to leave Yellowstone behind and try our luck fishing down south in the Tetons. However we got a little side tracked on the way out of the park, as a herd of bison decided to walk down the middle of the road along the Firehole River, forcing our hand on fishing the river again. The stretch that we pulled off at was full of picky rising browns and rainbows, which did not want to treat us very good. I did manage to rise a few trout on caddis and baetis patterns, but couldn't actually bring anything to hand.

Once we were clear of the Bison jam, we headed on for the Tetons and Jackson Hole area. Upon arriving though we were met by thunder storms and rivers that were flowing far too high due to spring run off making the possibility of getting a Snake River Finespotted Cutthroat not look so good. We decided to stay in Jackson for the night so that I could gather some information at the local fly shops on were to look for some finespotted cutthroat now the original stream that I choose was flowing like chocolate milk. The guys that we talked to at the Orvis shop suggested a stream that was fed by a lake in Grand Teton National Park should be flowing clear this time of the year. With my spot picked out, we went back to the hotel to get a good nights rest and a fresh start in the morning.
We worked our way downstream, and saw a blond black bear along the way, then found a nice run which seemed oddly vacant of fish when compared to upstream. However a few minutes later my dad's fly line went tight and the brute of the run was on. The fight only lasted about 30 seconds before the estimated 4lb cutthroat threw the fly and swam back to the depths. After thoroughly checking to make sure that there wasn't another brute hanging out in the area, we headed downstream and found a nice pool full of rising cutthroat below a small set of falls. We spent the next couple hours hear catching cutthroat after cutthroat on small flying ant patterns and various attractors.